A guided walk to Spiekeroog island – on foot right across the Wadden Sea National Park
And now Joke begins to skate. With the elegance of a competition ice skater, he glides through the flats, showing our group how to best traverse the mud with minimal effort. It looks easy, and of course no skates are required. Famous last words – as we will soon realise. Off I go: To an unappealing soundtrack of squelching, the suction effect of the mud – which nearly swallows my neoprene windsurfing boots – leaves my gait anything but elegant. My footing is anything but sure and, for a few minutes, the splendours of nature are lost on me as we move forward with our National Park guide, Joke Pouliart. Horizon and mud merge. I don't take in the countless shells beneath my feet – oysters, cockles, mussels, and others whose names I don't know. Or the marvels of the sea floor, combed into wavelike patterns by the North Sea. Or the cries of the gulls overhead, the watercourses snaking through the mudflats, the spoonbills bathing in them, or the green island of Spiekeroog, which lies shrouded in mist before us and is our destination on today's walk.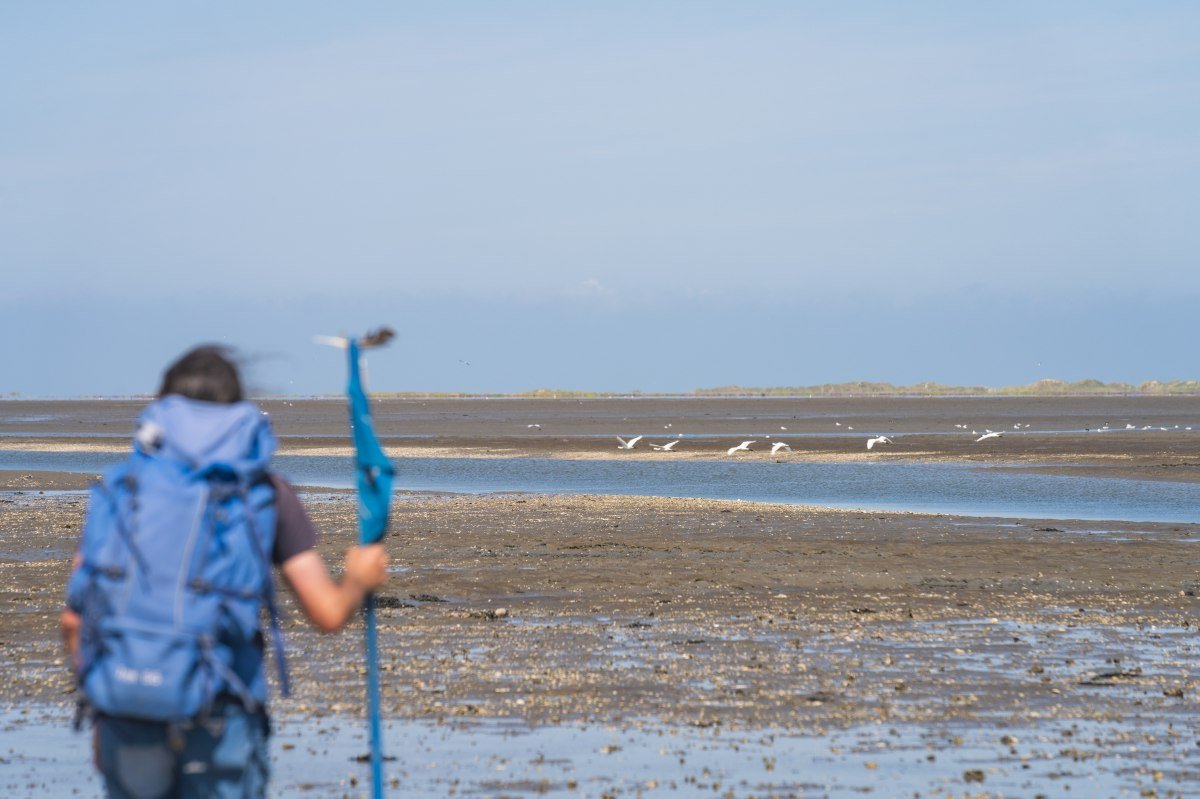 Rich biodiversity
On Harlesiel beach, at Wattwanderzentrum Ostfriesland – which offers mudflat walking tours in Eastern Frisia – we set off bright and early at 9.00. Our group is almost 20 strong. Using a big map, our guide Joke has explained to us why the Wadden Sea is such a unique landscape and a UNESCO World Natural Heritage Site. The globe's biggest system of tidal flats, it stretches from Den Heldern in the Netherlands to the Skallingen peninsula in Denmark – a coastline some 500 kilometres in length, which is always in a state of dynamic flux. In the Wadden Sea of Lower Saxony National Park alone, over 10,000 species of flora and fauna have been discovered to date, including many rarities. 'If anything changes here,' Joke cautions, 'if the sea heats up or windstorms increase – it will destabilise everything.'
Three metres deep underwater?
The human race is neither lofty nor in control in this wild place – we are merely fleeting guests here. At low tide, however, there is a window of a few hours in which we can advance into this mysterious habitat on foot – preferably with an expert guide. 'At high tide, we would now be three metres under water,' Joke says, now that we have reached firmer ground after negotiating a tricky stretch of mud and ooze. We are taking a small break at a tidal inlet. 'And if you were to walk here again tomorrow, all your footprints would have vanished. Makes you think, doesn't it?' Joke laughs. He's the kind of conservationist that manages to raise your awareness of the natural world without getting preachy. His motto is: 'People can only protect what they know.' And what they love. It's clear that our German-Belgian guide through the tidal flats has found his true passion. He gives tours in summer and winter, both for families (i.e. leisurely walks) and for those wanting a more strenuous outing. He has hired several mudflat tour guides for his company, Wattwanderzentrum Ostfriesland, including people he has successfully helped to break out of long-term unemployment. His work also involves a regional network of sustainable tourism partners, and he has launched another sustainably-minded travel agency called Waddensea Travel. His enthusiasm is infectious – for us as visitors, and doubtless for his fellow tourism professionals as well. And his authority out here is accepted by all. When Joke gives us a friendly reminder – perhaps with an eye on the rising tide – to not take photos of every pretty shell we see, everyone picks up the pace immediately.
©

TourismusMarketing Niedersachsen GmbH
Phones in the air
Our tour is around 12.5 kilometres long, and we see so many different types of tidal flat: mud, sand flats, tidal inlets and salt marshes. By the time we wade through the first of the nearly waist-deep tidal inlets – with mobiles and cameras held above our heads somewhat anxiously – no one is in any doubt as to why this tour was described as 'a strenuous workout' on the website. Or why, at the start, Joke asked whether we were all feeling fit and well. After all, a tour like this is only enjoyable, relaxing and positively memorable if no one has to be airlifted out by rescue services.

Momentum is on my side
We are, in fact, all fit. And, by now, we've even sort of made friends with the mud and ooze. Momentum is on our side – including mine. Smiling, I put one foot in front of the other, wading carefully through crystal-clear miniature ponds in the sand, in which tiny baby fish swim. I watch, fascinated, as a buried lugworm poos sand onto the surface of the mud, and I appreciate the sunbeams dancing in the tidal inlets. I notice that I've left the stress of the daily grind far behind me – further than the nearest shore, at any rate. A tremendous sense of calm washes over me; I am aware only of the here and now; I am – despite the effort involved – enjoying every moment of this unusual excursion. I look to the right and to the left. The others are also quiet, sploshing reverently through the mud, enjoying the birdsong, the vastness and the silence. Then, in one of the deep tidal inlets, a momentary lapse of concentration: one of my legs suddenly gives way. I sink to my knees. But helping hands immediately appear to bring me safely to the near shore of the inlet. It's like we have formed something of a community, a shared sense of purpose out here – after all, it's not as if we have all the time in the world. We cohere into one, which intensifies our experience of nature.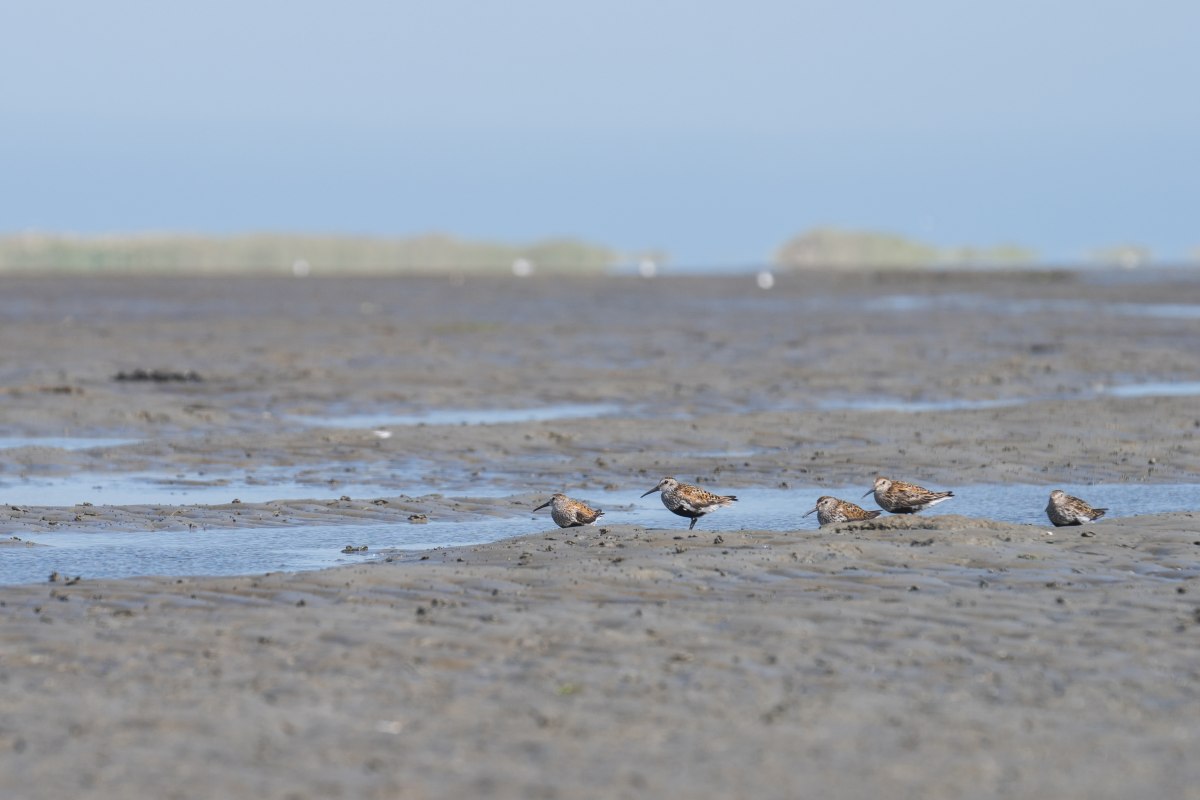 Just before the salt marshes on the southern coast of Spiekeroog, and after negotiating the last of the sizeable tidal inlets, Joke requests that we form a wide circle in the flats, with several metres between us. 'Now each of you turn round,' he says, 'and stand quietly for a few moments and look out over the flats. See how you feel the vastness and the uniqueness of this landscape more keenly?' Before turning round, I take a quick photo of the tiny people against the vastness of Mother Nature – a wonderful impression to remember.